We love your trees just as much as you do!
We provide tree trimming to residential and commercial property owners. The trimming of trees depends upon the species, size as well as the location of the tree and its proximity to structures. Our team can safely navigate these challenges. We provide residential and commercial tree trimming and pruning in the Northern Colorado area.  If you are interested in our tree trimming services, please contact our office. We can safely trim and or prune your tree or trees. When it comes to removing large hazardous branches over structures we can utilize our grapple saw to simultaneously cut and crane it away from your structure or building. Our goal is to trim and or prune your trees safely with minimal disruption to your property. Tree trimming can be dangerous and should only per performed by an experienced and insured professional. If you have a tree impacting the appeal of your landscape or if you have a tree that is in need of a trimming service, give our experienced team a call. We'll trim your tree or trees quickly and efficiently with the least amount of disturbance to your property and surroundings. With years of experience, you can trust to trim your trees safely.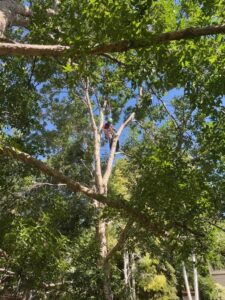 Tree Pruning Services
For more information on the tree services we provide, please visit our Services page.